Cast in The Art of Self-Defense after another actor dropped out, Nivola had 24 hours to learn black belt karate. But his greatest victory, he says, was securing the lead in David Chases big screen Sopranos prequel
I would say a good percentage of the roles Ive done have only come to me after somebody dropped out at the last minute, says Alessandro Nivola. I assume he is being self-deprecating, but he assures me he is being honest. He is in London to talk about The Art of Self-Defense, a black comedy that holds toxic masculinity in its satirical crosshairs. This one, Im sure somebody did drop out because I was offered it a week before it started.
At 47, Nivola is in the midst of a particularly fruitful period of his career. He has been a working actor since he left Yale in the mid-90s, but the last few years have taken him to a new level. There was Selma, You Were Never Really Here and a remarkable turn in Disobedience. On television, he co-starred with Robert De Niro in the Bernie Madoff film The Wizard of Lies and played Lee Berger in Channel 4s adaptation of Chimerica.
If, as he says, he is usually the second choice, how is that for his ego? I couldnt give a shit, really. If I think its a great job, Im only too happy that the other idiot decided he had better things to do.
Nivola is an excellent and effusive storyteller. In The Art of Self-Defense, Jesse Eisenberg plays Casey, a loner who is beaten up by a gang and takes refuge in a karate class run by Nivolas absurdly macho, ultra-violent Sensei. I had just put my bags down in the hotel room and there was this loud knock on my door, Nivola says, of his last-minute arrival on the project. I opened it up and this very strong woman just pushed me out of the way and marched into my room and announced that she was there to make me a black belt in 24 hours.
He didnt quite become a black belt, but it didnt matter. I mean, look, it was all for comic effect, the stuff that I had to do. For a long time, the audience is not quite sure who or what Sensei is. But I felt like the more convincing I could be, the more this particular deadpan style of humour would work. Youre not sure if youre supposed to laugh or be horrified or both at the same time.
People often assume that Nivola is English. In fact, he was born and raised in Boston, US, but spent a good portion of his early career doing British films; and he is married to Emily Mortimer. And its partly because I have a European name, he adds. In the early days, his agent would be asked if he could do an American accent. He gets called Alejandro a lot. Everyone assumes its Spanish. My father-in-law [the late barrister and author John Mortimer] called me Alfonso for the first three years that I was with Emily. He pauses. That may have been intentional.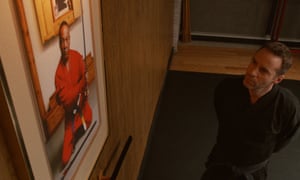 Source: http://www.theguardian.com/us