As growing numbers of Latinos are voting, Sanders has gained their support in California simply by outworking the competition
Its Friday night, and the moments before US Senator and 2020 presidential candidate Bernie Sanders is due to appear at Fresno City College feel more like a rock festival than a political rally.
Vendors hawk swag hats with Feel the Bern and Eat the Rich slogans, T-shirts featuring the photo of the young Sanders being arrested at a protest while an already raucous crowd nods to songs about revolution and wave signs reading: Unidos con Bernie.
Sanders is here in California to shore up support for the Green New Deal, a plan to turn away from fossil fuels and invest in clean energy, creating jobs in the process. But the events opening speakers stoke the crowds energy and make plain the subtext for the visit: Sanders wants to claim the Latino vote. And recent polls show hes doing just that.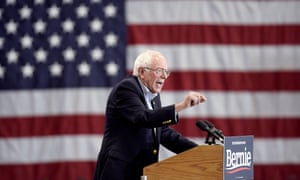 Source: http://www.theguardian.com/us