Labour claims that PM is aiming to invoke emergency powers using the Civil Contingencies Act
Boris Johnson is whipping up fears of rioting and deaths on the streets if Brexit is not delivered by 31 October so that he can try to invoke emergency powers and avoid extending the UKs EU membership beyond that date, Labours Brexit spokesman, Keir Starmer, claimed on Saturday.
After a week in which the prime minister was accused by MPs from all the main parties, including senior Tories, of inciting violence by accusing Remainers of Brexit surrender and betrayal, Starmer said it was part of an orchestrated plan to stoke a sense of outrage among Leave voters and create civil unrest, so an extension might be avoided.
Increasingly MPs across the House of Commons believe Downing Street is considering using the Civil Contingencies Act 2004, which grants special powers in the event of a national emergency, as a way to override the so-called Benn act, which mandates the prime minister to seek a delay to Brexit if no deal has been struck with Brussels by 19 October.
Johnsons description of the act as the surrender act provoked heated exchanges in parliament last Wednesday. Female MPs invoked the memory of their murdered colleague Jo Cox and said they feared for their safety. on Saturday night the prime minister reinforced his rhetoric in a newspaper interview saying his humdrum political metaphor could just as well have been the abject capitulation act, and questioned whether the EU had been consulted during the bills drafting.
Starmer told the Observer that Downing Streets strategy was clearly to stoke tensions but he warned Johnson that any attempt to invoke the Civil Contingencies Act would be defeated in the courts.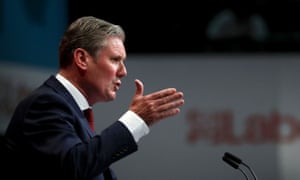 Source: http://www.theguardian.com/us