At a time when companies are forced to pick sides, Zuckerbergs refusal is a choice in itself
It can be hard to remember from this side of a successful foreign intervention in a US presidential election, but in April 2016, Mark Zuckerberg was widely praised when he spoke out however obliquely against Donald Trumps then longshot presidential candidacy.
Im starting to see people and nations turning inward against this idea of a connected world, the Facebook chief executive said in a speech. I hear fearful voices talking about building walls It takes courage to choose hope over fear.
Three and a half years later, another US presidential campaign is well under way and courage is not exactly thick on the ground at Facebooks headquarters in Menlo Park. For the past few weeks, the company has been embroiled in a slow-motion scandal over its inexplicable policies on political misinformation, one that epitomizes the kind of moral cowardice that characterizes Facebooks approach to its political challenges.
The controversy kicked off last month when the Facebook executive Nick Clegg revealed in a speech that politicians are exempt from the companys third-party fact-checking program. The policy drew immediate scrutiny due to the distinctly dystopian context in which the speech was made: just as the president of the United States was actively promoting misinformation on Facebook to smear a political rival and undermine an impeachment inquiry.
Trumps Facebook page has launched 5,883 different ads since news of the Ukraine-call whistleblower broke on 18 September, 40% of which mention impeachment, according to a Guardian analysis of the Facebook political ad archive. The Trump campaign has spent between $1.3m and $3.8m promoting the impeachment ads, which had been viewed between 26.5m and 43.9m times, as of Wednesday. (The ad archive reports spending and impression data as a range.)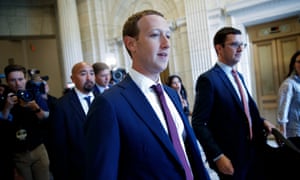 Source: http://www.theguardian.com/us