Death of Asrar Ahmad Khan in Indian-administered Kashmir has intensified scrutiny of authorities
The father of a teenager killed in Kashmir has demanded justice for his son, after witnesses said he was fired at with pellets and teargas in an unprovoked attack by Indian security forces.
Asrar Ahmad Khan, described as a shy and studious teenager, died last week 11 days before his 18th birthday. He had spent almost a month in hospital, where he was being treated for injuries sustained during the incident on 6 August.
On Wednesday, officials said the boy had been hit by a stone thrown by protesters. Asrars cousin, who was present at the time, said there had been no stone pelting in the area. The family produced records that described pellet, shell and blast injuries as the cause of death.
Ajit Doval, Indias national security adviser, said on Saturday that Asrars death was unfortunate but demonstrated that the situation was largely peaceful. If theres one incident that has taken place, thats good, he said, according to the Associated Press. Zero would be better, but one is good.
Media outlets have documented accounts from several other families who allege their relatives died due to the actions of security forces. It is not clear if the Indian authorities have changed their position regarding the circumstances in which Asrar died.
His death, the first to be confirmed by the authorities, has intensified scrutiny of Indian officials, who have maintained that the situation in Kashmir is returning to normal. His father, Firdaus Ahmad Khan, said he wanted punishment for his sons killers. The government is a liar. He was not hit by a stone but they killed him, he told the Guardian last week.
Tens of thousands of extra troops were deployed to Kashmir ahead of the revocation of the regions special status on 5 August, when strict curfews were imposed, apparently to prevent unrest.On Sunday, restrictions in Srinagar were raised to their most severe levels since the clampdown began, as Shia Muslims observed an annual day of mourning. Mobile and internet services remain suspended across the Kashmir valley, home to around 7 million people. Only some landlines have been restored. Thousands of people have reportedly been detained.
The human rights group Amnesty International India has raised serious concerns about the continued communication blackout in Kashmir, warning that it has given the government a near-total control of all information coming out of Kashmir.
This raises grave concerns of human rights violations that may occur yet remain unreported, the group said.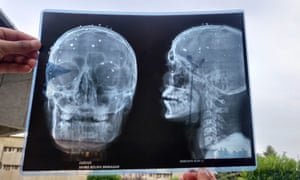 Source: http://www.theguardian.com/us