Hardened door and security cameras helped protect dozens of people from gunman
A German synagogue targeted in an attempted mass shooting this week had been upgraded to fortify its main entrance and install security cameras, measures that probably saved the lives of dozens of people hiding inside.
The attack on Wednesday in the city of Halle left two people dead but the number could have been much higher as the gunman failed to break through the synagogue door, despite repeatedly shooting at it and attempting to blast it open with an improvised bomb.
Frustrated by his failure, the man went on a rampage in the surrounding streets, while about 70 people inside hid behind chairs and tables. The head of the Jewish community in Halle, Max Privorotzki, said he was able to watch the attacker via a CCTV screen.
Federal prosecutors said on Friday that the suspect had confessed to the attack and to being motivated by antisemitism and right-wing extremism, during an interrogation lasting several hours.
Jewish communities across Europe have increasingly taken precautions to safeguard themselves against violence after a sharp rise in antisemitism.
In 2015, the Halle synagogue received a grant from the security assistance fund, a project run by the Jewish Agency for Israel, the worlds largest Jewish non-profit organisation. The fund was set up after the deadly shootings at a Jewish school in Toulouse, France, in 2012.
The Jewish Agency chairman, Isaac Herzog, said the project had paid out about $11m (9m) to Jewish communities for security equipment in more than 58 countries.
We upgraded and donated the entire security equipment for the community in Halle, he said, adding that the New York-based Helmsley Charitable Trust provided the money. That donation saved lives.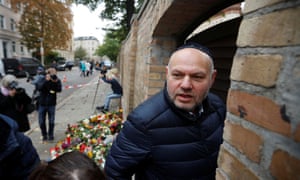 Source: http://www.theguardian.com/us