Thousands left without shelter and likely to face food and water shortages as Bahamas hurricane tracks towards Florida
US officials and counterparts around the world sent out an urgent call for help for the Bahamas after the northernmost islands in the archipelago were pulverized by Hurricane Dorian.
Thousands of residents of Grand Bahama and Abaco islands are without shelter, stranded by flooding and are likely to suffer shortages of food, water and medicine that will worsen without quick action by the international community, according to coordinated messages from the United Nations, the US state department, the US embassy in Nassau and local officials.
We are in the midst of a historic tragedy, said the Bahamian prime minister, Hubert Minnis. The devastation is unprecedented and extensive.
The dimensions of the humanitarian disaster began to emerge after the slow-moving storm, which took about 36 hours to cross the five-mile-wide Grand Bahama, finally left the country on Tuesday afternoon.
Minnis announced late in the evening that the death toll had risen to seven, with more deaths expected, and predicted that rebuilding would require a massive, coordinated effort.
We are in the midst of one of the greatest national crises in our countrys history, Minnis told a news conference. No effort or resources will be held back.
The storm hit Abaco island on Sunday as a category 5 hurricane with wind gusts of up to 220mph making it the strongest Atlantic storm ever to make landfall, tied with the Labor Day hurricane of 1935.
In a country accustomed to harrowing encounters with fierce storms, Dorian registered as a disaster on another scale.
Dorian will not really move away, said a tweet from the newspaper in Freeport, the main city on Grand Bahama, on Tuesday morning. Heavy rain. This hurricane will totally destroy this island.
The terrible consequences were visible from the first helicopter overflights of Abaco and Grand Bahama islands on Tuesday. Video footage showed lakes of seawater instead of streets, blasted debris where homes once stood, boats thrown inland like discarded bath toys, denuded trees and the occasional lone structure still standing. In many areas, life on the islands appeared to have simply been erased.
Its total devastation. Its decimated. Apocalyptic. It looks like a bomb went off, Lia Head-Rigby, who helps run a local hurricane relief organization, told the Associated Press. Its not rebuilding something that was there; we have to start again.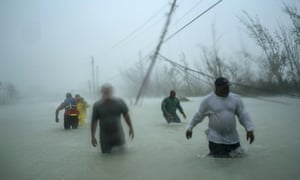 Source: http://www.theguardian.com/us