The comic actor and former Saturday Night Live writer talks about her first film lead, in Brittany Runs a Marathon, and how the characters insecurities over body image fed into her own experience
When Jillian Bell was filmed by a small movie crew running the New York marathon last year, onlookers assumed she was doing it for real. Some recognised the actor, others just clapped and cheered anyway.
Bell, now 35, has spent the past 10 years as a secret weapon, briefly unleashed, in a series of big Hollywood comedies (and a couple of Paul Thomas Anderson pictures). She was a withering bridal shower guest in Bridesmaids, an unlikely pimp in Office Christmas Party and, most memorably, a stunningly insulting and deadpan foil to Jonah Hill in 22 Jump Street. That film was a showcase for Bells particular gift: extra-dry delivery of wildly strange dialogue, much of it improvised.
Jillian makes me want to quit show business and realise I am a complete fraud, said Hill during the press tour, because she is the funniest person I have ever met in my life.
Jump Street took $330m (256m); prospects are rather more modest for her first film as a lead, Brittany Runs a Marathon, about which critical buzz has gathered pace since its debut at Sundance earlier this year. Loosely based on a friend of the films writer-director, Paul Downs Colaizzo, Brittany is a New Yorker in her late 20s, mired in toxic relationships and self-destruction. Attempting to score some prescription drugs from a doctor, she is informed that she is dangerously overweight and urgently needs to lose 40lb (18kg). Brittany pulls on her trainers, steps away from social media and changes her life. She was flawed, and joyful, says Bell. In pain and then hilarious the next moment. She is, she says, unlike anyone she has played before.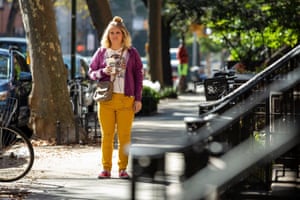 Source: http://www.theguardian.com/us