Tottenham were cruising after goals from Son Heung-min, Lucas Moura and Harry Kane but a late push from West Ham meant the game at the London Stadium ended 3-2
Jos Mourinho celebrated with a knee-slide and it was the moment when his Tottenham tenure felt up and running. The clubs new manager had wanted to see the real Dele Alli, not the midfielders brother, and when he did the emotion came pouring out. What a piece of skill Alli produced in the 43rd minute and it not only got Spurs away for Lucas Moura to make it 2-0, it killed a West Ham team who look to be in freefall.
Alli had stretched to keep in a heavy Eric Dier pass on the left touchline and slipped over but, lying on his back, he fashioned a flick with the inside of his right heel that moved the ball under his body and released Son Heung-min to make the assist. Allis move would not have looked out of place in a football freestylers clip on YouTube and, according to Mourinho, was the mark of a player in focused and ultra confident mood. Dele is too good not to be one of the best players in the world, he added.
Mourinho had stressed that his work at Spurs in the aftermath of succeeding Mauricio Pochettino would be a process but this was an encouraging start, albeit against a feeble West Ham, who have taken two points from seven matches. Son got things started with the first goal, Harry Kane scored the third and it added up to Spurs first away win in the Premier League since January; the breaking down of a mental barrier.
For West Ham, the problems seemed everywhere, although they began in goal with Roberto a figure to spread panic rather than calm. It was not a good look when the home crowd cheered him ironically in the 80th minute when he made a clean catch. West Ham did fight until the end and, as Spurs tired partly because of the psychological strain of the managerial change, in Mourinhos opinion the hosts cut the deficit.
The substitute Michail Antonio tricked Toby Alderweireld before finishing smartly and Mourinho would have winced at some of the Spurs defending in the closing stages. Declan Rice had a stoppage-time goal ruled out for offside by VAR and Angelo Ogbonna scored with the last kick of the game from a Robert Snodgrass corner. But the grandstand comeback had never felt on for West Ham; the goals merely papered over the cracks.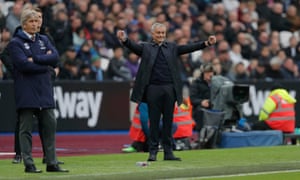 Source: http://www.theguardian.com/us