Data shows black drivers stopped at four times rate of white people: These stops lead to death, activist says
Los Angeles police officers stop and search black and Latino drivers at significantly higher rates than white people, even though white residents are more likely to be carrying drugs and weapons, a new report shows.
Traffic stop data from a recent 10-month period across LA revealed that black drivers and passengers were four times more likely to be searched by police than white people, and that Latinos were three times as likely to face searches, the Los Angeles Times reported on Tuesday.
In stops across the city, 24% of black drivers and passengers were searched, compared with 16% of Latinos and 5% of white people. White drivers were found with drugs or other contraband 20% of the time, a higher rate than other groups; the contraband rate was 17% for black people and 16% for Latinos.
The analysis of Los Angeles police department (LAPD) data comes the same week that an activist coalition is launching a campaign demanding an end to these kinds of stops and reparations for people who have been wrongly searched and racially profiled.
These stops lead to the death of our people, said Melina Abdullah, co-founder of Black Lives Matter LA, which is part of the coalition launching Wednesday, called Promoting Unity Safety and Health in Los Angeles (Push LA). For anybody who lives in communities like mine, the data is not a surprise. Its a validation of what we already know.
The analysis also contradicts claims that disproportionate stops occur because of higher crime rates among certain communities, she added: The stops arent based on more criminality among black and brown folks There is evidence of racism within LAPD, and these stops absolutely have to end.
LAPD was forced to release the data under a new California law requiring departments to disclose traffic stop statistics. The LA Times analyzed records of more than 385,000 drivers and passengers pulled over from July 2018 through April 2019.
The severe racial disparities started with the stops: even though LAs population is 9% black, roughly 27% of people pulled over were black. White people make up 28% of the city, but roughly 18% of stops. Latinos were 47% of stops, which roughly matches their population size. Asians, who make up 11% of the city, represented 4% of stops.
For black and Latino drivers, minor equipment violations, such as a broken taillight, made up 20% of the stops compared with only 11% of stops for white people. These types of stops allow police to harass and search people of color without justification, activists said.
Its fishing. Its casting a broad net, said Alberto Retana, president of Community Coalition, a south LA not-for-profit group spearheading the new Push LA campaign. Its criminalizing poor folks that arent a threat to the community. What we have here is a policy of systematically targeting [the black] population. That is institutional bias.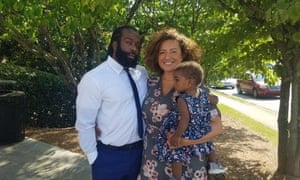 Source: http://www.theguardian.com/us