Mauricio Pochettino said Tottenham gave up towards the end of their 7-2 Champions League mauling by Bayern Munich
Mauricio Pochettino admitted that his Tottenham players gave up towards the end of the humiliating 7-2 Champions League defeat at home to Bayern Munich, which represented a new low in a difficult season.
The manager watched his team give everything during an entertaining first-half, in which they led 1-0 and created chances before going in 2-1 down at the interval. The second-half was a horror show, with Serge Gnabry, the former Arsenal winger, scoring four times as Bayern ran riot. The German champions twisted the knife with three goals in the final seven minutes.
Pochettino kept his players inside the dressing-room for some time after the final whistle but when he emerged, he stressed that calm analysis had to be the order of a traumatic evening. His message was that he and the players needed to accept the defeat and deal with the consequences.
The feeling at the end when we conceded the three goals it was like the team was tired and gave up a little bit, Pochettino said. Maybe that showed a little bit our frustration with the game because up until 82 minutes, the team were alive, we were fighting, trying to create chances to score [for 4-3].
I told you many weeks ago that this is going to be a tough season. After the final of the Champions League last season [when Spurs lost to Liverpool], it was a chapter closed and now the club is in a period when they need to open another chapter and decide a project medium, long-term. You need to show your quality like a man first; to face [the defeat] like a professional, like a man. What comes after is the professional side. Now we need to be men and be strong all together; try to bounce back and change the feeling.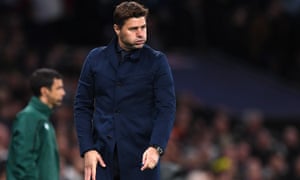 Source: http://www.theguardian.com/us