Los Angeles county sheriff says California shooting killed two and injured three others
Investigators in southern California are working to figure out why a suspect opened fire outside his high school on his 16th birthday, killing two fellow students and wounding more before turning the gun on himself.
The latest deadly school shooting to hit the US started early on Thursday morning at Saugus high school in Santa Clarita, 30 miles north of Los Angeles.
The student pulled out a .45-caliber handgun around 7.30am in a large central outdoor area at the school, shooting five classmates and then himself, authorities said. A 16-year-old girl and a 14-year-old boy succumbed to their injuries. They were identified as Gracie Anne Muehlberger and Dominic Blackwell.
The suspect was admitted to the Henry Mayo Newhall hospital in critical condition, and died on Friday afternoon.
After more than 40 interviews and evaluation of evidence, no motive had been established, said Capt. Kent Wegener, of the Los Angeles County Sheriffs Departments homicide unit. He said no manifesto, diary or suicide note had been found.
It still remains a mystery why, said Alex Villanueva, the LA county sheriff, at a news conference.
The teen stood by himself, did not appear to interact with anyone and then walked to the center of the quad, Villanueva said.
As far as we know the actual targets were at random, the sheriff said.
Villanueva said the conclusion that the attack was planned was based on the shooter bringing the weapon, handling it with enough expertise and counting the rounds fired.
It wasnt a spur-of-the-moment act, he said.
The origin of the gun was being investigated.
Doctors said Friday morning that two girls, ages 14 and 15, who were both shot in the torso, were doing well and should be released from the hospital over the weekend. A 14-year-old boy was treated and released from another hospital, authorities said. The names of the injured students were not released.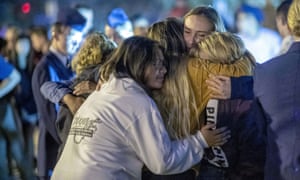 Source: http://www.theguardian.com/us