With Labor Day comes a time-honored transition to a more volatile stage of the race and Biden has held onto his lead, but Warren and Sanders are right behind
For the historically large and diverse field of Democrats seeking the presidential nomination, it has been a long hot summer. But with the arrival of the Labor Day holiday comes a time-honored transition to a new and more volatile stage of the race. The field is narrowing, the competition growing more sharp.
Former vice-president Joe Biden has held his early lead despite a season of missteps and gaffes. He is trailed by Vermont senator Bernie Sanders, who has staked out healthcare as his defining issue. But both have lost ground to Massachusetts senator Elizabeth Warren, who spent her summer churning out policy plans, working selfie lines and steadily climbing the polls.
Rounding out the top tier are the California senator Kamala Harris and South Bends mayor, Pete Buttigieg, who used televised events to break through a congested field but have seen their progress stall.
Party leaders and strategists say the race remains fluid at the top as the contenders prepare to share a debate stage in Houston in two weeks time.
The stakes are higher now but the race is still open, said Tom Vilsack, secretary of agriculture under Barack Obama and former governor of Iowa. A spark or a moment during the debate could catapult one of them forward.
Polling last week showed Biden held a comfortable lead at 32%, with Warren and Sanders jostling for second. A USA Today/Suffolk University survey found Warren at 14% and Sanders at 12%; Quinnipiac showed Warren at 19%, four points ahead of Sanders. In both polls, Harris and Buttigieg were the other candidates to top 5%.
But as Barack Obama and Donald Trump showed in 2008 and 2016, early assumptions and public polling are not always good indicators of who voters will choose.
Biden has an advantage among black voters but faces competition from Harris and the New Jersey senator Cory Booker, the most prominent African American contenders who have targeted his record on race.
The nightmare scenario for Joe Biden is that Kamala Harris or Cory Booker emerge very strong in the Iowa caucuses and that leads to an erosion of support among African Americans, said Bill Galston, a senior fellow at the Brookings Institution.
The biggest moment of Harris campaign so far was the first debate, when she clashed with Biden. But she has faded since. Galston said: I think Kamala Harriss supporters are wondering: does she have a second act after the first act was such a success?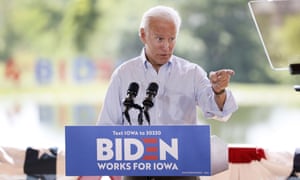 Source: http://www.theguardian.com/us