Payton Hobart is an entitled, power-hungry kid. The Netflix show gives him room to be human
In todays daring TV landscape, a white, cisgender, egregiously wealthy gay man hardly counts as an advancement for queer representation. I know this. You know this. Networks and streaming services know this.
Thats because recent LGBTQ representation on TV has been wide-ranging. Theres the myriad of black identities on Pose, the confident trans character of Jules on Euphoria, and the sexually fluid cast of MTVs dating reality show Are You The One?According to Gladds annual survey of LGBT representation on TV, last year was the first time ever LGBTQ characters of color outnumbered LGBTQ white characters.
Basically, if you are a white gay man on TV, you better be bringing something fresh to the table.
Enter Payton Hobart. The Politician the first show to come out of Ryan Murphys $300m deal with Netflix deftly employs the power-hungry characters privilege and whiteness. Rich, overconfident, entitled. Payton is something queer people on TV are so rarely allowed to be: awful.
The aversion to thorny gay characters can be seen as an overcorrection for so long they were the villains and predators, never the heroes. However, it is important we dont turn them into cookie-cutter archetypes either.
Payton (Ben Platt) spends the course of the show unapologetically focused on getting what he wants from the world, at any cost. As he campaigns to become his high schools president (Murphy somehow makes the stakes feel higher than the Florida recount), Payton makes selfish decision after selfish decision. He only picks a student with cancer as his running mate to gain sympathy votes. He cleverly ousts his brothers from the family will. And when Paytons lover/opponent a dreamy, statuesque boy with the totally crush-worthy name River dies by suicide, Payton sheds no tears. Instead, he holds a meeting with his campaign team about gaining a clear path to victory.
Critics have slammed The Politician for being empty and a mess. However, it feels like Ryan Murphy has delivered a show deliberately as imperfect as its character. Payton is the queer anti-hero weve needed.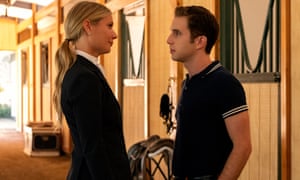 Source: http://www.theguardian.com/us