Roland Berger held up his father, Georg, as a role model but the real story is darker
It was an inspirational tale: after watching the horror of the Kristallnacht pogrom in 1938, a German man tore up his Nazi party membership card in protest and turned against the regime.
His Christian-based principles led to him being hounded by the Gestapo, sent off briefly to Dachau concentration camp and eventually dispatched to the eastern front.
In speeches, interviews and articles Germanys most famous management consultant, Roland Berger, has cited the story of his father, Georg, as the inspiration that led the successful entrepreneur to set up a foundation and an annual 1m prize in 2008, dedicated to honouring human dignity.
To this day, my father remains a moral role model for me, he told Focus magazine in 2012. He represents decency and courage.
The only problem with this inspirational story was that it was not true. An investigation published by Handelsblatt has shown that Georg Berger was never the victim of the Nazis his son had painted him as, but a wartime profiteer.
Rather than joining the Nazi party for careerist reasons after Hitler had seized power in 1933, as Berger claimed in an interview with Sddeutsche Zeitung as recently as last September, Berger senior signed up for the National Socialist cause as early as 1931, and kept on paying his membership fee until 1944.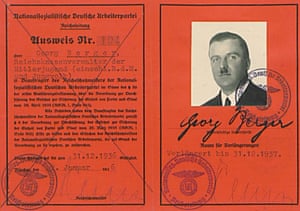 Source: http://www.theguardian.com/us